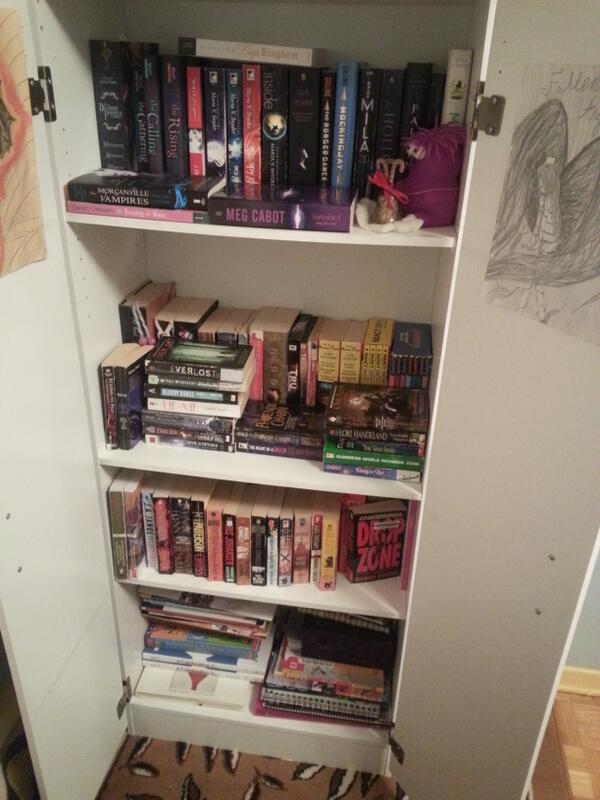 So I had this itty-bitty bookshelf before because I usually don't have too many books for too long. I either give them away, donate them, sell them, whatever. But the older I grow, the more precious these books seem to me. Soon, I found myself keeping more books than my bookshelf could hold.
So there were two options: give some away/sell them, or get a new bookshelf.
I got a new bookshelf.
And I REALLY thought it was big enough! This thing is a freaking giant! It's as big as a fridge!
That really says something about me. Especially since the majority of these books I only acquired in the last two years.
At the top, I put some of my favorite books that I own. So The Darkest Powers and The Darkest Rising series is up there, because I am absolutely OBSESSED with them. Oh! BY THE WAY:
" I'm also planning a Chloe/Derek online novella for next spring, taking place after The Rising. Of course, neither is a series, which is what you asked, and the direct answer to that is…I don't know."
That is from the author herself. AHAHA!! YESSS!! I am SO EXCITED!! But there had better be a whole new The Darkest series to accompany those two. Because I absolutely loved them.
Right! Focus! Wait for You is up there too. I'm REALLY hopping J. Lynn does a print version of Trust in Me so I can put it next to Wait for You. It just doesn't feel right having it on my Kobo. And speaking of which – I HAVE A KOBO! NOT A KINDLE! NOT A NOOK! A KOBO! I can't even preorder the book! Boo.  Mrs. Armentrout, if you're reading this, you'd better get Trust in Me on the kobo preorder list, too. Seriously. Or I'll karate chop something.
I also have the second series to Maria V. Snyder's Poison Study series. I LOVED Opal! I'm really hoping that sometime soon I'll also be able to buy the Poison Study series, as well. Gonna try this year. It'll be on my book wish list, and my friends can do with it what they want. Usually they're pretty good about my book wishlist. They appreciate the book nerd that I am and – let's be honest – don't know what else to buy me. Books are just an easy out for them, and have me drooling and hugging and thanking them for the rest of the month if the book is what I wanted. Win-win!
I also have the Mila 2.0 ARC up there (hehe, I love that it's an ARC, especially since it was a very good book!) and Crap Kingdom ARC (I still need to finish it. It's funny but I get so distracted! I'm reading 10 books at once. Anyone else do that? Yeah.)
I have Fallen, Match, The Hunger Games series (minus Catching Fire. Guess who's reading it before the movie comes out? This girrll!) The Hollow, and Dark Visions by L.J. Smith.
The rest are mysteries, romance books, NAs, random books I had growing up like Goosbumps that  I never gave away. I also have a Winx Club comic book in there that I bought in grade 2 with my allowance. It's special. Also, the book haul books are there too. I wrote a book haul blog that shows off all the books I got, and you can see it here:
https://thenovellist1.wordpress.com/2013/09/21/book-haul/
And then the bottom shelf is just random stuff like journals, uni books, pamphlets, a game board (Sins 😀 It's as evil as it sounds!) scrap books, play scripts, etc.
Well there you have it. I thought this bookshelf would be big enough until I actually started putting stuff in there. Now I kinda wish I got a different one. It honestly looked like it would fit it all! I underestimate the books I have…
Also, on a side note, I know that the blogs have been lagging a lot, but I'm trying my best to keep you guys updated. It's been really crazy since school started, and since I only started this blog during the summer, I didn't even know if I would be able to balance writing a blog and doing school stuff. It's not too bad, I do enough blogs so you don't fall behind 😀
Thank you for all your support! Thanks to all my twitter followers, blog followers, the authors who have allowed me to do book reveals and blitzes and all that stuff. It's really fun and I hope to be doing this for a long time!
Peace!